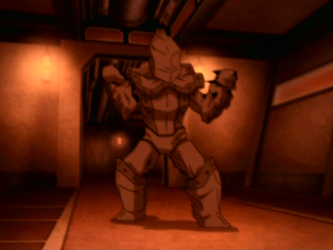 EarthArmor gives the Earthbender that extra protection that goes a long way. This is the most defensive technique of an Earthbender. When used it will give the Earthbender some Armor for a configurable amount of time. While the Armor is on, the Earthbender will take significantly less damage. Has a relatively long cooldown by default though.
Players - How to use
Edit
To use this ability, the player must first bind it to any slot. To do this, use the command:
/bending bind EarthArmor

Once the ability is bound, the bender needs to click on an Earthbendable block. If the block underneath it is earthbendable, the block will fly toward you granting you temporary armor and damage resistance.
To view the in-game help guide for EarthArmor, use the command:
/bending help EarthArmor​

Admins - Permissions
Edit
By default, this move can be used by all Earthbenders. If you wish to use an advanced permissions setup, you can use the following permissions node:
bending.earth.EarthArmor

If you are choosing to negate that node so a user can't use the EarthArmor ability, please refer to the documentation for your Permissions plugin. The method in which you negate a permission node changes based on the permissions plugin you are using.
Additionally, if you wish to use the node in which all Earth abilities are granted, use the following:
bending.earth.*

Admins - Configuration
Edit
In the config.yml, you can configure the Duration, Strength, and Cooldown for EarthArmor. To do so, you will want to find the following section in your configuration file:
    EarthArmor:
      Duration: 60000
      Strength: 2
      Cooldown: 150000

The duration and cooldown are in milliseconds. Keep that in mind when configuring the ability. Also, while working with yml files of any type, spacing is very important. Always use spaces instead of tabs to prevent error.